The CATIC Foundation, Inc. is the charitable arm of CATIC Financial, Inc., and the Foundation provides support primarily to Bar-Related® entities or entities that exist for the education of lawyers and for the advancement of the legal profession; and secondarily to not-for-profit organizations engaged in charitable works.  The Foundation's focus areas include:
Advancing the Practice of Real Estate Law
Advocating for Fair and Equal Housing Standards
Promoting CATIC's Employer Brand
Supporting Charitable Events in our Community
CATIC Foundation Board of Directors
Damon Carter is the Senior Vice President and Chief Human Resources Officer for Connecticut Attorneys Title Insurance Company (CATIC) and is responsible for developing and executing the company's human capital strategy. A business leader with over 20 years of diverse experience, he has held HR leadership roles with several Fortune 50 companies including DaimlerChrysler, United Technologies Corporation, General Electric, Express Scripts and Aetna. He also serves as an Adjunct Research Analyst for International Data Corporation's global IT Executive Program and provides HR thought leadership to the information technology, telecommunications and consumer technology markets.
Damon is a member of CATIC's board of directors. He is also a board member of Nutmeg Big Brothers Big Sisters in Hartford, CT.
Damon graduated magna cum laude from Wayne State University with a B.S. in Psychology and received his M.A. in Industrial/Organizational Psychology, cum laude, from the University of Detroit-Mercy.
Attorney Guarnaccia is a partner in Guarnaccia, Connors, Kalom & Zorn, LLC, with offices in Willimantic and Colchester, CT. His practice focuses on real estate, both commercial and residential; business law; corporate law; probate and wills; and elder law. A graduate of William & Mary Law School, Attorney Guarnaccia is a member of the Connecticut Bar Association's Elder Law, Estates and Probate, and Real Property Sections.
Attorney Jex has practiced law in Fairfield County for more than 35 years. Her firm, Kay Parker Jex LLC, is located in New Canaan. Her areas of practice include real estate purchases, sales and financing; commercial and residential leasing; trust and estate planning; estate settlement; business formation; and land use and zoning. She earned her juris doctor degree at St. John's University School of Law. Attorney Jex is a member of the Fairfield County Bar Association and the Connecticut Bar Association's Real Property Section Executive Committee.
Dick Lawrence is licensed as a Certified Public Accountant in Connecticut. He has extensive finance and accounting experience through senior finance and management roles for a variety of insurance organizations located in Connecticut, and has also helped establish insurance enterprises in Vermont, London, and Bermuda. He is a member of the American Institute of Certified Public Accountants and the Connecticut Society of Certified Public Accountants. Dick earned his Bachelor of Business Administration degree from Fairfield University and his Master of Professional Accounting degree from the University of Hartford.
Dick retired from his position at CATIC in August 2019, having served as Senior Vice President, Treasurer, and Chief Financial Officer. He continues to serve as a member of the CATIC Board and the CATIC Foundation Board.
William W. Weber founded Weber and Carrier in 1968 and is currently of counsel. Attorney Weber practices in the areas of real estate, probate, estate planning, and business transactions. He is a graduate of Trinity College and the Cornell University Law School, where he was elected to the Board of Editors of the Law Review. Attorney Weber served as a state prosecutor, and as Corporate Counsel to the town of Berlin, the City of New Britain, and the Mattabassett Regional Sewer Authority. He has served on the American Hospital Association Committee on Governance, served as Chair of the Hospital of Central Connecticut, as President of the New Britain Chamber of Commerce, as Chair of the New Britain Downtown District, as Director of the New Britain National Bank, and as Chair of the New Britain Public Library.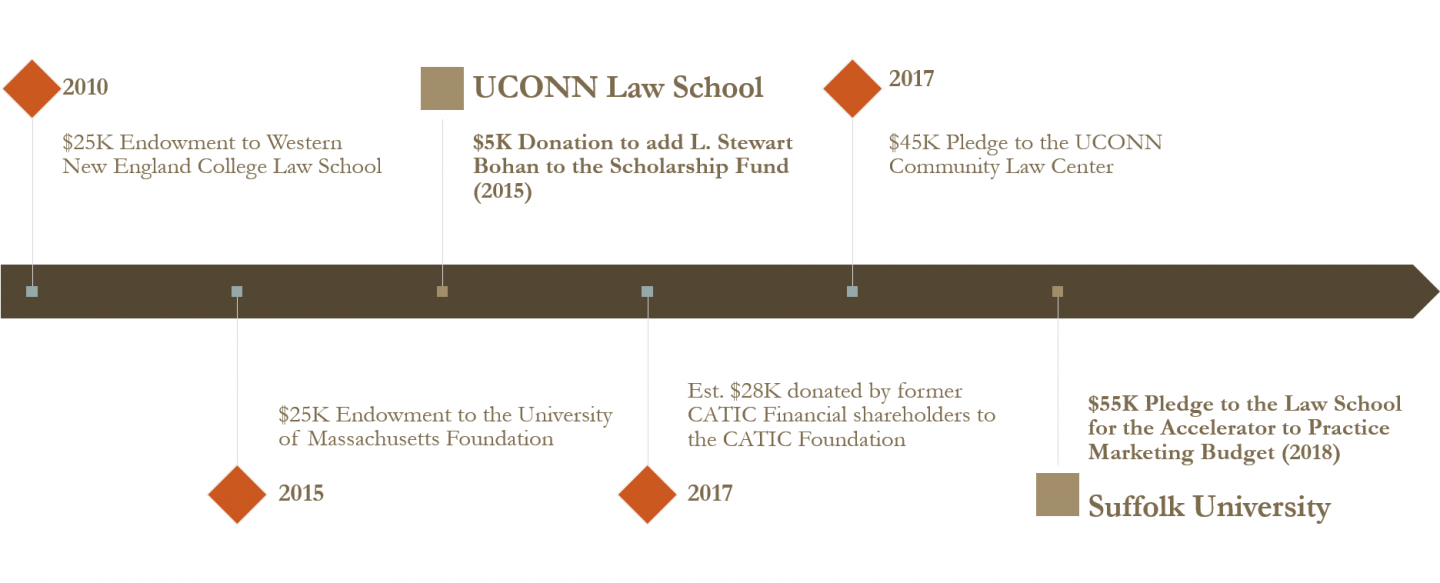 Right where you need us
With offices in New York, New Jersey and Pennsylvania, local knowledge of the community means we're on the ground and ready to help.
Our sister company, CATIC, is licensed throughout the East.